Getting Here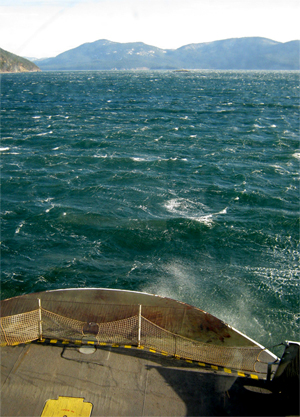 You can travel to Orcas Island either by plane, boat or by ferry.
The Washington State Ferry System serves Orcas Island from the mainland terminal in Anacortes several times a day. By car, the drive from Seattle to the Anacortes ferry terminal takes about 2 hours. Take I-5 north to the Highway 20 exit just north of Mt. Vernon. Take Highway 20 west, following the signs through Anacortes to the San Juan Islands Ferry Terminal.
In the summer, make sure you allow yourself plenty of travel time. Plan to be at the terminal a minimum of 2 hours prior to the scheduled sailing. There is always the possibility of an overload. Washington State Ferries do not accept reservations, except for travel to Sydney, British Columbia. You can call the Washington State Ferries at (800)843-3779 for current schedules and advice on when to arrive for your planned sailing.
San Juan Airlines departs from Boeing Field, near SeaTac airport and arrives in Eastsound, Orcas Island several times daily. Kenmore Air Seaplanes depart from Lake Union, in Seattle, and flies to West Sound, Rosario Resort and Deer Harbor. Taxi service, car rentals, and a summer bus line are available on Orcas Island. Be sure to have your local transportation arranged prior to your arrival.